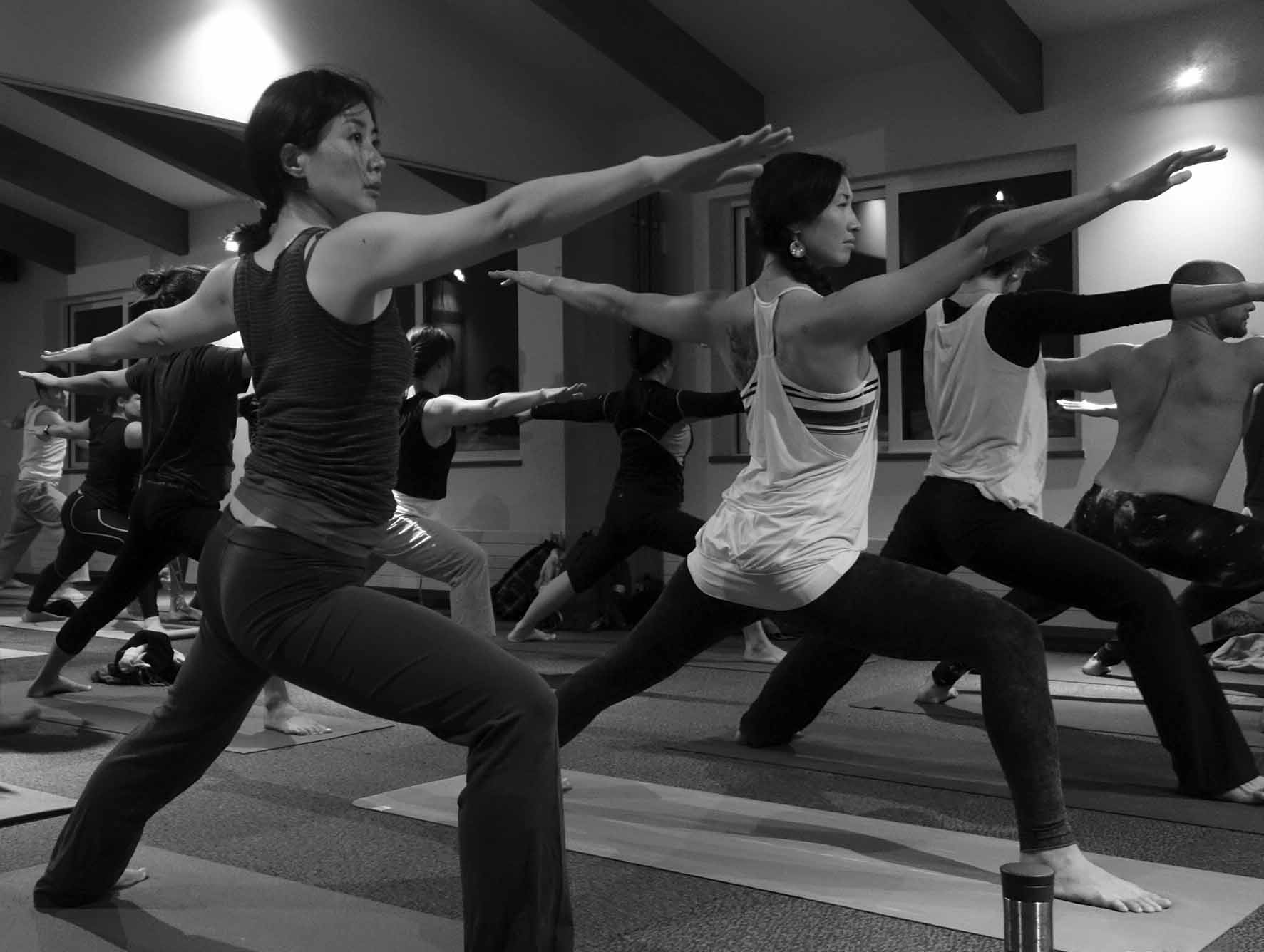 Welcome to Niseko. Thank you for taking the time to come all the way here for the Jivamukti workshop!
Q. Tell us about JIvamukti Yoga and the Jivamukti Yoga Studio in London that you and your husband Phil run?
Jivamukti Yoga originates in New York City, founded by David Life and Sharon Gannon just over 30 years ago. It generally incorporates a dynamic asana practice, encourages spiritual activism and also leans strong on the spiritual side. We inherited the Jivamukti Yoga Studio (London) from the original founder/owner, Manizeh Rimer four years ago when she and her family decided to move to San Francisco, and have been looking after it ever since. We hope to continue to grow and to serve the family style community, and are doing our best to serve through the yoga practice.
Q. Tell us about some of the differences between Jivamukti and other methods of Hatha Yoga practice – Astanga, Iyenger, Yin, etc.
A standout difference may be the deliberate and specific use of music/spoken word to encourage deep listening but also as a teaching tool. Some songs, lyrics, lectures have been articulated in a way that can't really be improved upon. A Jivamukti teacher is also constantly honing skills to assist students physically and energetically to facilitate an awareness of safe alignment with the body, while also empowering them to find that depth on their own.
Q. What are your thoughts on "yoga as spiritual practice" versus "yoga as physical practice"?
I personally don't see a separation between the two.
Q. What are the fundamentals to a yoga practice and a yoga mindset?
Mindful breathing and clear intention.
Q. We notice you have adopted a healthy way of living and eating. Do you think conscious eating has a part to do with developing one's practice?
Yes, I personally feel that it does. Eating is such an integral part of every culture and it casts a major vote in the amount of suffering we cause (or not cause) to other living beings, not to mention to ourselves health-wise. There are also severe environmental implications to such choices, it is difficult to deny but as we know it is often perceived as "an inconvenient truth". In life, and as much as in the yoga practice, full time consciousness would be ideal, wouldn't it? Therefore, how could someone differentiate between the awareness experienced on the mat and the awareness in how someone lives and nourishes the body?
For me, embracing a vegan diet was primarily for ethical reasons. It was and still is difficult to watch a film like earthlings (http://earthlings.com/) and not be moved to live and eat with the intention of reducing/eliminating the suffering of other living beings. I believe that the yoga practice develops exponentially, on many levels, when the circle of compassion widens.
Q. What inspires you?
Humility, integrity and quiet discipline…
Q. Do you practice daily? Is a daily practice essential?
No, I have not practised every day for a while now particularly since a recent reawakening of an old injury in L4/L5that has been persistent. Admittedly, consistent breaks only magnify the value of a regular practice, but not necessarily an every day practise of asana. To be honest, as I get older I pay even closer attention to the motivation behind the actions I take and I feel less inclined to prove anything through the asana practice or the severity of it J. I am brutally aware of my strengths and weaknesses, so I simply get on with it. But I also admit when I have gotten lazy, the mind pays the price. It's also good for the body to also rest and recover, constant battering won't allow for that. One thing for sure is I have never regretted getting on the mat, but as usual, the first step is the hardest J. That said, yoga practice becomes more integrated over time and takes many other forms (meditation, study, being considerate, casting a compassionate vote as a consumer) but I do believe that as a teacher, the bar has to be raised for the asana component, since for example, a Jivamukti open class is predominantly asana-based!
Q. Lastly, any words of wisdom to help deepen one's yoga practice?
Apply the practice to everything, indiscriminately… and a good place to start is always at home, with ourselves.
Thank you cat!